*Adeo Home Health is not accepting new clients at this time*
Trusted, Quality Care in Your Home
Adeo, formerly Greeley Center for Independence, has been providing home health services in the Greeley area for over 30 years. Our team of licensed healthcare professionals provides compassionate, reliable and personalized home health care in the comfort of our clients' homes, allowing them to live as independently as possible, thereby improving their quality of life. Whether you need short-term, acute care to aid in recovery from an illness or injury, or long-term care for chronic conditions and disabilities, including assistance with housekeeping and errands, Adeo has you covered.
Customized, Person-Centered Care
At Adeo, we pride ourselves on listening to our clients and learning from them so we can craft flexible, individualized support that reflect their choices.
Our Promise to You
We will work with you to create a plan of care that helps you or your loved one be as independent as possible.
We will work with your family, physicians, discharge planners and/or case managers to ensure that your plan of care is medically appropriate and provides the level of service needed.
As your support needs change over time, we will modify your plan to accommodate these changing needs.
Services to Meet Your Needs
Skilled Nursing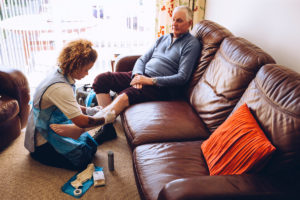 Skilled nursing services are provided by a Registered Nurse (RN) or a Licensed Practical Nurse (LPN) under the direction of a Registered Nurse. Services include medication management, wound care, diabetic care, catheter care, injection administration and more.
Certified Nurse Aide
Licensed Certified Nurse Aides (CNA) provide skilled personal care for activities of daily living under the direction of a Registered Nurse. Services include medication assistance, bladder/bowel care, blood pressure checks, skin care, skilled bathing/dressing/oral care and more.
Private-Duty Skilled Nursing
Clients receive one-to-one skilled nursing care provided by a licensed nurse. If you use a ventilator, require tracheotomy care or have other needs requiring care by a nurse, you may qualify for this level of service.