Choose to Lose is a Winning Program for Weight Loss
December 12, 2022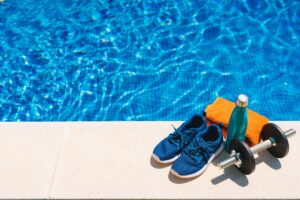 Do you have a New Year's Resolution Yet?
With the holidays just around the corner, it's the time of year to start thinking about resolutions for the New Year. Weight loss is a common, and sometimes dreaded, list topper for many of us. Whether you want to lose weight to get healthier, or your physician has advised you to lose weight to avoid health concerns or undergo surgery, losing weight can be difficult. Most people need to make changes to their diet AND start an exercise program to be successful. But what if you can't exercise because your body hurts too much?
There's Something in The Water…
Aquatic therapy may be the answer you've been looking for. Aquatic exercise is low-impact but very effective. It provides a whole-body workout while also burning fat and calories. The buoyancy of water assists in supporting the body's weight, so it decreases the stress on your joints and allows for greater flexibility. The water's viscosity provides resistance so you can strengthen muscles without weights and extra compression on your joints. Being in the water also helps your body stay cooler than it does during land-based exercises, reducing the chance of overheating and allowing you to work out longer and burn even more calories. In fact, studies show that individuals typically burn 2 more calories per minute in the water than on land. Because aquatic therapy helps to decrease pain in most participants, it makes exercising easier and, ultimately, life outside of the water more comfortable.
Customized Aquatic Therapy
Choose to Lose is a specialized aquatic therapy weight loss and wellness program offered by Adeo Physical Therapy. Choose to Lose was created by Moni Kohlhoff, MSPT. Moni realized that many of her patients could not exercise on land because they had joint and spine pain so she looked to the water and its benefits for a solution. Moni performs a physical therapy initial evaluation to determine your fitness level and to identify any health issues or injuries you may have so that she can customize a program just for you. Exercises are performed in Adeo Physical Therapy's large warm water pool (kept at a very comfortable 93 degrees) under direct supervision and instruction. Moni will increase the challenge as you progress and she can offer nutrition advice along the way.
And the Best Part…
Choose to Lose is covered by insurance. If you have physical therapy benefits with your insurance plan this program is, most likely, a covered service. Adeo Physical Therapy accepts most major insurance plans including Medicare and Medicaid.
Requirements for Participation
To be eligible to participate in Choose to Lose you must have:
A BMI (Body Mass Index) of 30 or greater
The ability to enter/exit the pool without staff assistance (ADA compliant ramp)
Bowel and bladder control
Are You Ready to Get Started?
Are you ready to make a commitment to yourself, your health, and your well being? Let the experts at Adeo Physical Therapy help you meet your New Year's resolution. Call Adeo Physical Therapy today at 970-339-0011 to find out more about Choose to Lose.
About the Therapist
Moni Kohlhoff, MSPT focuses on giving her patients the tools they need to live healthier, more fulfilling, pain-free lives. Moni has been treating orthopedic conditions and injuries for many years. She has completed continuing education courses in obesity management and nutrition, total joint replacement rehabilitation, shoulder injuries, and foot/ankle injuries to better assist patients in achieving their goals.