Exploring Culturally Fluent Healthcare
March 17, 2023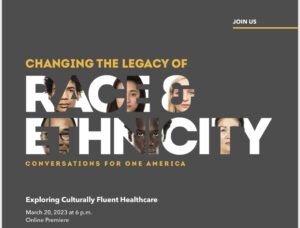 Colorado Humanities is premiering the Exploring Culturally Fluent Healthcare panel discussion on March 20th at 6 p.m. on Facebook and YouTube. Panelists Adeo Executive Director Dr. Sarita Reddy, The Colorado Health Foundation President & CEO Dr. Karen McNeil-Miller, and University of Northern Colorado College of Osteopathic Medicine Founding Dean Beth Longenecker will take part in the discussion moderated by SummitStone Health Partners Chief Medical Officer and North Colorado Health Alliance Assistant Medical Director Dr. Lesley Brooks.
In this discussion, these healthcare experts are focused on addressing equity challenges, representation in healthcare, impacts of Covid, and barriers to access in the newest of four-panel discussions premiering this spring.
The healthcare program and the ten in the series preceding it may be viewed on Facebook and YouTube. A fact sheet is available as well.
Download Fact Sheet