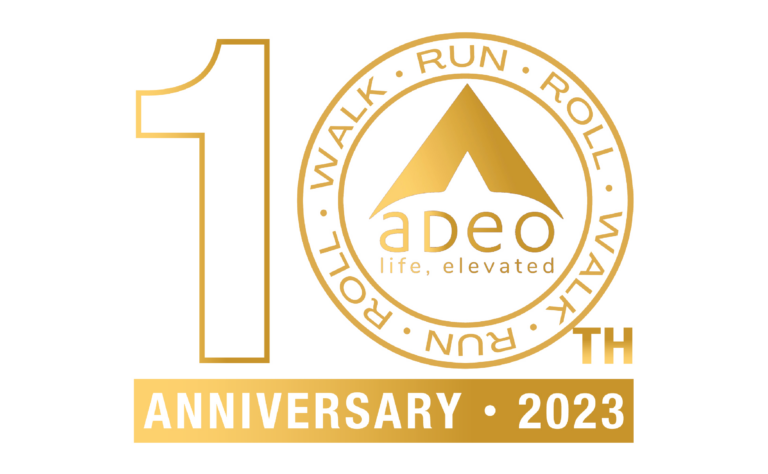 Walk, Run or Roll 2023
We hope you plan on joining us for this year's 10th Annual Walk, Run or Roll virtual event on August 26-September 8 with an in-person celebration on September 9, 2023.
Register Here
Registration is now OPEN!
The event officially kicks off on August 26th. You have two weeks to complete your goal. You can participate by cycling, skateboarding, and using indoor stationary equipment in addition to walking or running. 
Feel free to register as an individual or as a team. This event is a great opportunity to experience as a family, with your coworkers or a group of friends. It's always more fun with friends! 
Cost of registration is $25 for those over 12 years old and only $15 for kids under 12. 
New this year! During registration you will become a FUNDraiser for Adeo, raising funds to support our "Say Yes to Joy" fund, providing personalized enrichment activities for our residents.
Interested in Being a Sponsor?
There is still time to sign on as a sponsor for this year's Walk, Run or Roll event as we celebrate its 10th anniversary! This signature event raises awareness of and funds for our mission of supporting people with brain injuries to live "life, elevated".  
To mark this milestone, we are launching the "Say Yes to Joy" Fund. Event sponsorship helps us to underwrite the costs of the event so that all proceeds raised during the event will go towards this fund. This fund allows us to provide individualized life-fulfilling experiences to our residents based on their unique interests. Whether it's guitar lessons or visiting the Denver Zoo, our "Say Yes to Joy" fund permits us to say yes to whatever our residents want to do. All proceeds will go to this fund and will be used to bring joy into our residents' lives. 
In addition, we will also utilize part of the money raised to bring joy into the lives of the staff who work so hard to help residents live safe, healthy, joyful lives. We believe that joyful staff can better support joyful lives for our residents! 
Event Sponsorship is a great way your business can support Adeo. There are various sponsorship levels to choose from to match your budget and marketing goals. Sponsorship is an excellent way to receive publicity while also supporting an important, but often forgotten, community of individuals living with brain injury. 
View or Download the sponsorship packet for more details. 
2023 Bronze Sponsors
Greeley Satellite Rotary
ELS/Lawrence Smith
Gojos Print Shop
Imagine Cattery
KidGlov
McDonald Toyota
Otter Cares
RealTec
Siamo
Friend of Adeo
Precision Chiropractic
Zova Marketing
PRS – Portable Restroom Solutions
Traditional Chinese Acupuncture
Air-Systems Engineering, Inc.