Walk, Run or Roll 2021
Last year's Walk, Run or Roll virtual format was incredibly successful, enabling us to connect with people all over the country. So, we decided to keep it going!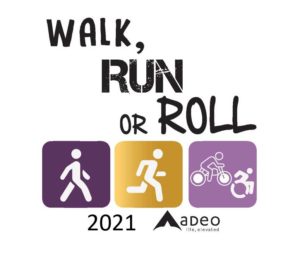 Adeo's 8th annual Walk, Run or Roll will take place August 21st – September 4th and, once again, you have the option of participating in a variety of ways. You can even use indoor stationary equipment.
Whichever way you choose to get those miles in, you'll be supporting our mission.
And… you'll have 2 whole weeks to meet your Walk, Run or Roll goal.
Register Now
We have a variety of mileage options PLUS the opportunity to sponsor Adeo residents to Walk, Run or Roll.
Interested in Being a Sponsor?
Click here for sponsorship opportunities. Please contact Kristin Mather at kmather@adeoco.org with any questions.
Bronze Sponsors
Randy Composanto
Landmark Builders Inc.
Precision Chiropractic
Austin & Austin Real Estate
DaGama Web Studio and Digital Marketing Agency
Christopher & Karoline Woodruff